Hatch fill
---
With hatch fill, closed paths can be filled with lines.
In this example the text was generated via the "Create Text" form, see effects of the choosen hatch fill settings:
Line distance is 1 mm
Start with a line angle of 0°
After each closed path, turn the line angle by 15°
Each line keeps a distance of 0.5 mm to the inner shape border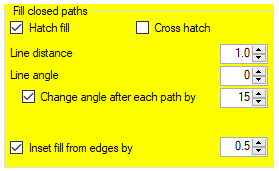 Hatch fill pitfall
SVG not ok - one object above the other.
Get SVG for testing

Result:
Both objects are getting a hatch fill.

SVG ok - both objects within one path.
Get SVG for testing

Result:
The inner object doesn't get a hatch fill.