Elements of the Graphical User Interface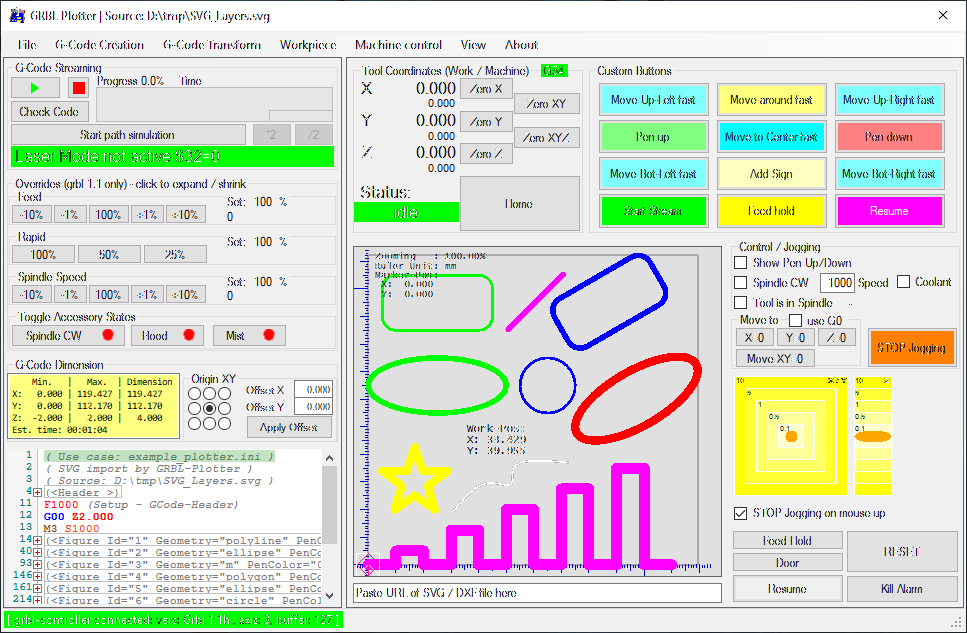 To load any file (SVG, DXF, Gerber, CSV, Image, GCode, INI) just drag and drop the file on the 2D-view, also possible with web links. Also copy & paste of SVG, DXF and GCode is possible.
The menu offers possibilities to generate GCode (text, simple shapes, barcode), to transform GCode (mirror, scale , rotate), to switch display (machine area, pen-up path).
6 languages ​​are currently supported (english, german, arabic, spanish, portuguese, russian, chinese, japanese)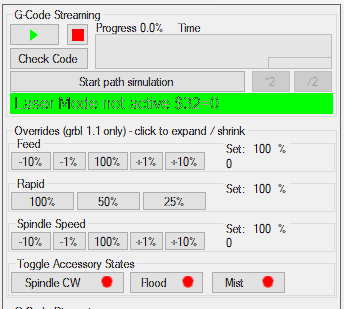 This area shows buttons to start/pause, stop the GCode streaming towards the grbl-controller. With grbl version 1.1 also override options will be shown, which allows the user to change the feedrate or spindle speed during the operation.

Unique is the pause mode, which allows the user to move the tool position. When continuing the streaming, the last coordinates and machine state will be restored.
With a right-click on the play button [▶] a specific code section can be streamed, instead of the whole code: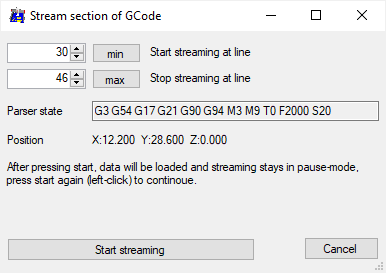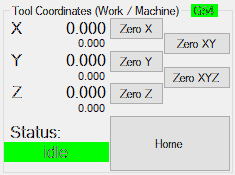 The digital read out shows the actual work and machine position. The work position depends on the selected coordinate system which is currently selected (e.g. G54). Also buttons to set the coordinates to zero (for the selected coordinate system) are available. And 'Homing' can be started (if enabled inside grbl setup) to find end-switches and set coordinat system. The DRO automatically shows up to 6 axis if supported by the used grbl-controller.

Up to 32 custom buttons can be defined to apply commands or run scripts to perform GCode.
With mouse right-click, the button function and color can be set.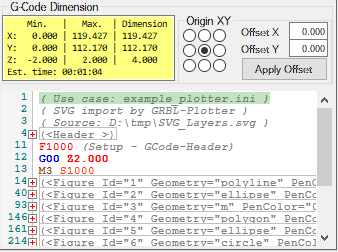 This area shows the imported or loaded GCode with it's dimension and controls to change the offset of the work coordinates.
If the GCode was generated by import of graphics, it will be grouped with XML-Tags for later processing like sorting, moving and deletion.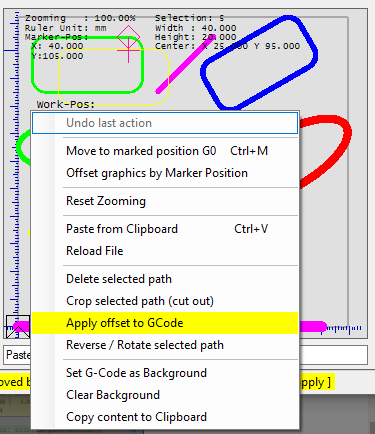 For plotter, laser and simple router applications the 2D-view is good enough. Optional the color and line-width of the imported SVG or DXF graphics can be shown. Single figures can be moved to change the offset. On right click a context menu appears to confirm the shift and refresh the view.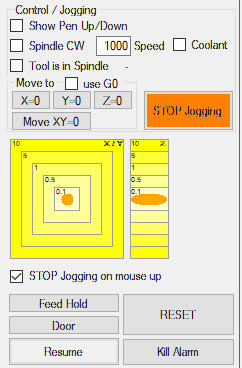 This area offers a live control of your plotter / laser engraver / router. the pen can be lifted or lowered, the spindle / laser can be switched on/off.
If "STOP jogging on mouse up" is enabled, the motion stops immediately if the mouse button is released.
If "STOP jogging on mouse up" is disabled, the motion will finish the selected distance.
A Jog motion can be aborted via the big STOP button.