Quick guide
To get your Arduino to control a plotter, following steps are needed:
Windows USB driver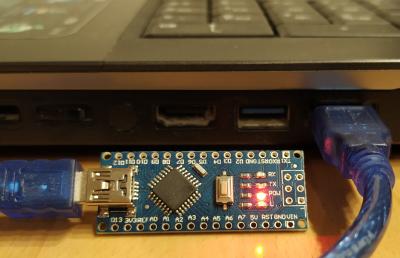 Connect your Arduino with your PC, on windows 10 the needed USB driver will be installed automatically, if not: the cheap Arduino clones often uses a CH340 chip. Check here for more information https://www.google.de/search?q=arduino+ch340.
Grbl firmware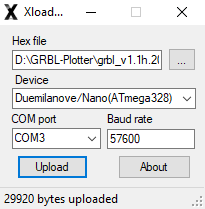 Download and unzip GRBL-Plotter. Start the program XLoader.exe. Select the desired firmware, correct device and the correct com port, then upload the firmware. With the shown settings, the upload took 18 seconds.
After successful upload, close XLoader and reset the controller.
1st connection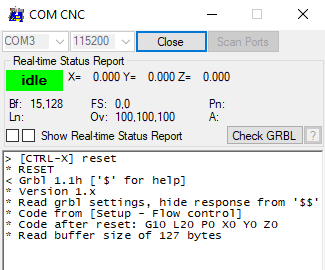 Install GRBL-Plotter by starting 'setup.exe' from the unzipped folder. Start GRBL-Plotter and select the correct COM-port for the controller. After successful connection, grbl sends a start-up message "Grbl 1.1h ['$' for help]".
Now the buttons inside the GUI are enabled and the stepper motors can be controlled.
Configuration of grbl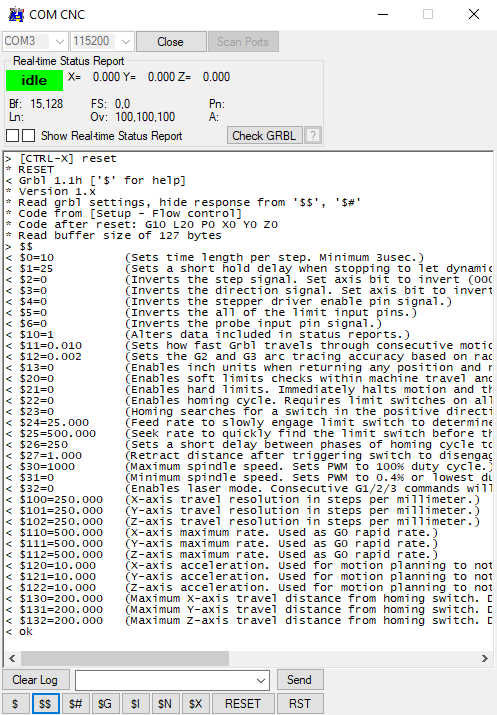 After pressing "$$", grbl lists the stepper motor settings, which must be adapted for each machine. Check the grbl-Wiki for more information. The screenshoot shows the initial settings after the installation of grbl.
The main settings are $3, $10x, $11x (x=0,1 or 2 depending on axis) to get the stepper motors running in the correct direction. The correct direction means:
+X = to the right
+Y = to the back
+Z = upwards
Note: a too large number for $10x (steps/mm) and $11x (max. speed) will cause problems.
The product of $10x and $11x must stay below 1800000 to avoid pin frequencies above 30 kHz.
E.g. $100=250, $110 = 7200 is at the edge.
More information here: quick-guide-to-setting-up-your-machine-for-the-first-time